Exol Lubricants wins Africa's Most Trusted Quality Lubricant Supplier Award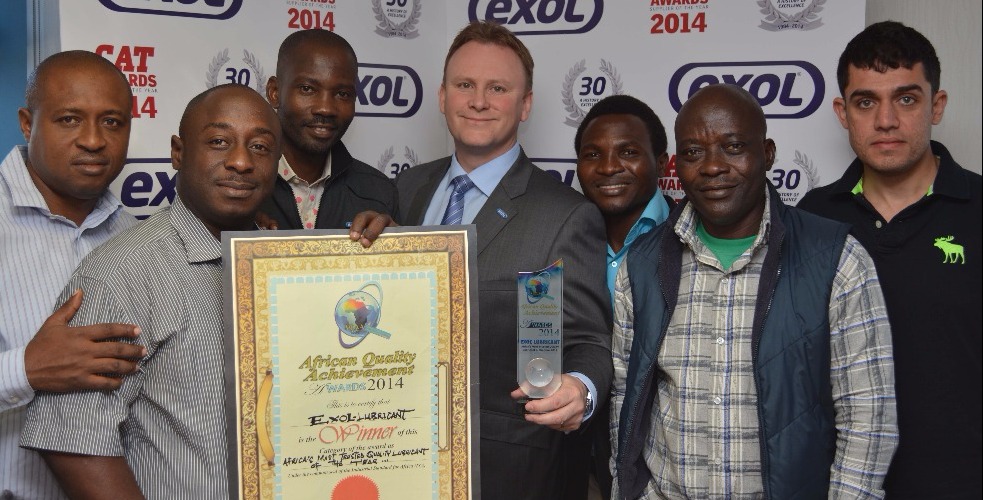 Exol Lubricants has won the award of Africa's Most Trusted Quality Lubricant Supplier as part of the African Quality Achievement awards 2014.
The company was presented with the award by the African Quality Institute (AQI) at a recent visit to Exol's head office and production facility in the West Midlands.
Collecting the award, Steve Dunn, Exol Lubricants sales director, said: "Exol is a leader in quality management standards and to be recgonised for our work in the supply of quality lubricants to Africa is hugely appreciated by the entire company. To be singled out as the most trusted supplier of lubricants is a real honour and we will work extremely hard to maintain our position.
African Quality Institute (AQI) is the leading professional organisation in Africa, tasked with the responsibility of developing and implementing professional programmes on quality management and assurance. AQI also conducts research, organises events and publishes reports to ensure a professional's continued development.
Exol now supplies more than 30 countries worldwide, as part of its thriving export business that includes Africa, Asia, Europe and the Middle East. Each Exol export customer also receives regular visits and enjoys the same benefits a UK customer experiences including: 24hour response times to emails, full technical support and training. All of these benefits are designed to ensure that Exol is extremely easy to deal with globally.
Exol manufactures a range of lubricants and associated products for industrial, agricultural, automotive, marine and off-highway applications. It is in complete control of the production process and committed to total quality management from design to production, distribution to customer support. Both its sites in the UK adhere to the internationally recognised ISO-14001 environmental certification standard.