Four new trucks for Exol fleet
A further four Scania trucks have been added to Exol Lubricants' ever-growing fleet, enabling it to efficiently meet ongoing customer demand in comfort and style.
The additions, all of which have been supplied by Keltruck, include two new trucks for its Rotherham site, which are 13-litre G450 low roof cabs, and two for its Wednesbury site, which are nine-litre, G320 rigid high roof cabs.
Powerful and fuel-efficient, the new 13-litre trucks feature SCR only technology, allowing Exol to significantly reduce its impact and fuel consumption without compromising strength.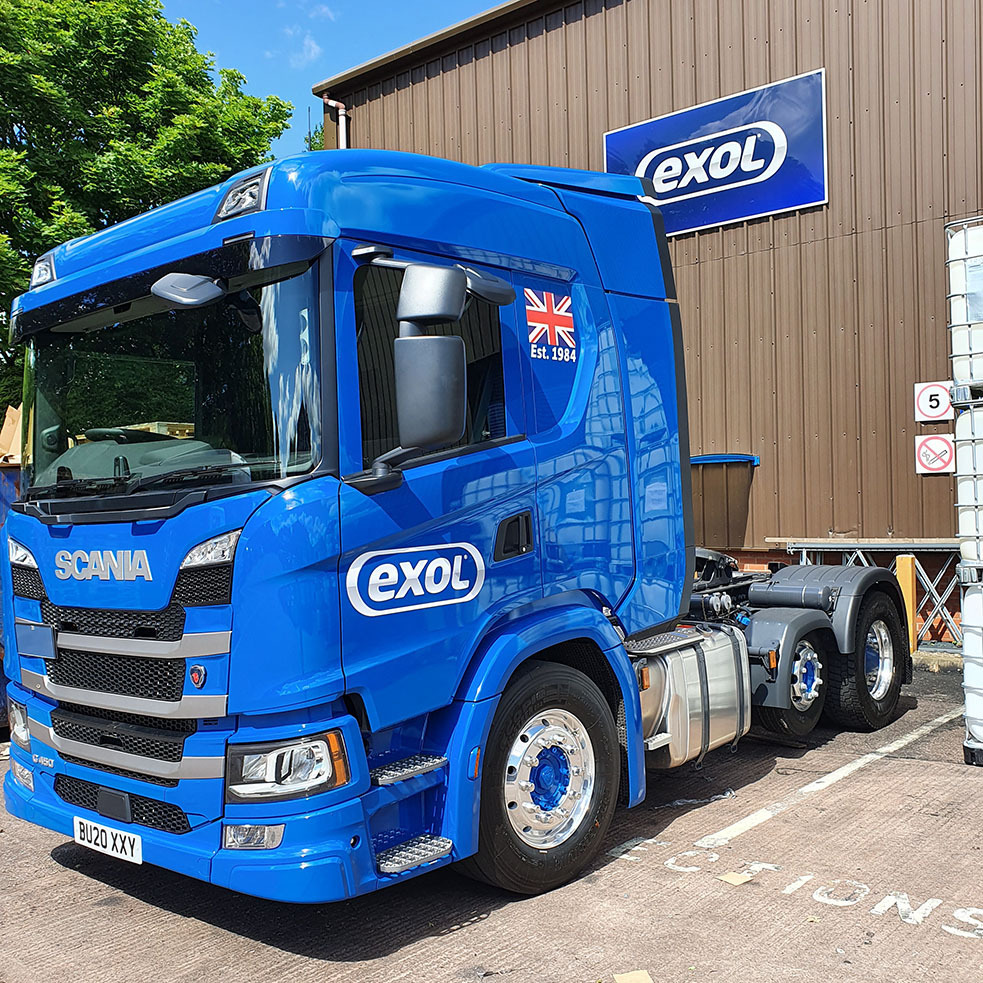 Scania engines are known for their fuel efficiency and G-series features improved injectors and combustion chambers, combined with the new rear axle ratio, the engine speed is reduced, and fuel consumption is cut by 3 per cent for the 13-litre engine.
The fleet will also benefit from a ground-breaking Euro 6 gas engine with a power output of 410 horsepower. This gives Exol heightened flexibility, as the 13-litre engine can be used for both long-distance transport and construction-site movements.
The nine-litre engines provide a significant weight reduction compared to the 13-litre engine alternative, enabling Exol to increase its load, without compromising performance.
With greater visibility, enhanced comfort, and plenty of storage space, the G-series range of Scania trucks is the premium choice for all-round duty in various applications, offering high performance in any condition.
Combining comfort and elegance, both inside the cabin and out, the range offers unique storage options as well as a spacious cab, making it easy to move around, maximising comfort for the driver.
Gear-shifting performance is also improved thanks to the lay shaft break, boosting efficiency and saving time when changing gear.
The cab's interior has been specially designed to optimise the driver's position and modular instrument panel. Drivers can access a larger display for ease of use, with improved graphics and intuitive controls, enabling them to stay focused on long drivers.
Steve Dunn, Exol sales and marketing director, said: "These additions will enable us to meet continued demand up and down the country, while helping us to efficiently control our fuel consumption and keep our drivers as comfortable as possible at all times."
Both sets of vehicles are fully specified and come with full sets of dura bright alloy wheels.
All of Scania's Euro 6 engines are also approved to run on up to 100 per cent HVO.