O'Brien Oil Products Ltd wins Exol Distributor of the Year 2017
Exol Lubricants has awarded O'Brien Oil Products with the prestigious 'Exol Distributor of the Year' accolade for 2017.
The company has been a proud Exol distributor for more than 22 years' operating out of Newport, County Tipperary. The company supplies multiple markets including automotive, commercial vehicle, agriculture, industrial, marine and renewable energy.
Collecting the award from Exol sales director Steve Dunn and Export sales manager Paul Eastwood, Jerry Moloney said: "I am delighted to win this award from Exol Lubricants. The technical support and service we receive is excellent and, in a very competitive industry, we are perfectly positioned to promote the brand in the many sectors we serve."
O'Brien Oil Products prides itself on its efficient delivery service, supplying products from 1ltr to bulk road tanker deliveries on the same day or next day service.
Steve Dunn, Exol sales director, said: "A massive congratulations to O'Brien Oil Products on winning this closely contested award. The company has been a loyal partner for many years and we have grown together in this time. With the support and service available to customers, it is our aim to help them grow their business and sales of Exol products across a number of industries."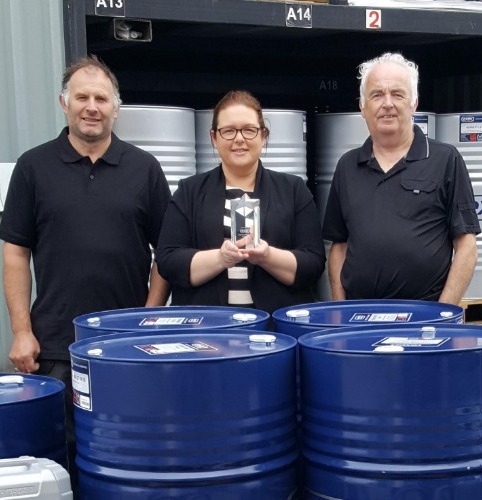 Picture: L-R: Pat Harrington, Olivia Moloney and Nick Sinnott of O'Brien Oil Products