Power Your Farm With Transmission Oil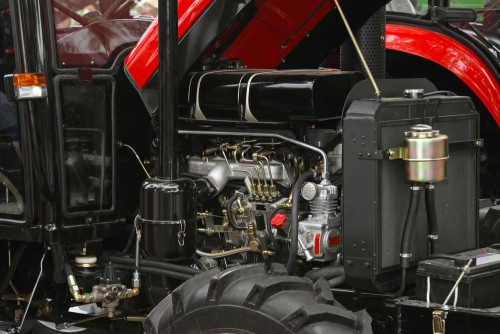 Tractor transmission fluids have many uses and typically referred as UTTO (Universal Tractor Transmission Fluid) or 'Back End' oils as they lubricate everything except the engine. Although not an absolute rule, Tractor Transmission fluids are used in:
Transmission / Gears
Hydraulics
PTO's
Hubs and Axels
Wet Brakes
UTTO fluids must be able to lubricate hydraulics across a wide temperature range whilst being able to prevent wear and judder from wet braking systems, hydraulic and PTO drives to external equipment and have a robust formulation to lubricate and cool the increasing power demanded from modern farm equipment.
Tractor transmissions have undergone many developments over the last 70 years replacing double-clutching and crash gearboxes. Additional ranges and synchronisation have given operators more forward and reverse speeds to suit varying conditions with gear shifts becoming smooth and more efficient.
Transmissions fitted into modern tractors >100hp are either powershift or Continuously Variable Transmissions. The choice for the owner is a balance of purchase costs, operating costs, and maintenance charges. CVT transmissions require specialist parts and skills to maintain and repair which can be cost prohibitive whereas with powershift transmissions operators can utilise third party repair and maintenance contracts hence reducing overall running costs.
Power Shift Transmissions
Clutch plates transfer engine power to drive axles. It is possible to move between multiple gears using multi-plate wet clutch packs which can be further automated allowing intelligent selection of gears. These transmissions still allow for operator input changing gears as terrain and loadings change and therefore are subject to efficiency losses through poor choices. Due to the use of wet clutch plates it is vital the correct lubricant is used to ensure optimum life and smooth transitions.
Continuously Variable Transmission
CVT uses hydrostatic drives powered by the engine transferring into motion on acceleration. Mechanical drive is utilised once maximum speed is achieved i.e. stepless across gear ranges.
Many OEM's have CVT transmissions using electronic clutch systems. These systems further increase efficiency intelligently selecting which drive and ratio will deliver the best efficiency for driving conditions. The following video compares both transmission systems: https://www.youtube.com/watch?v=G4-OF228y9E
Whichever the type of transmission fitted, lubricants have been forced to evolve ensuring no loss of power, friction, sludging, increased temperature stability and shear stability throughout its working life which can be hundreds of hours in many different seasons from Summer to Winter.
When choosing the correct transmission oil for your tractor there are several factors to consider. Firstly, the OEM requirements, secondly the viscosity and thirdly a reputable supplier who can ensure swift deliveries of consistent product. Exol Lubricants have an excellent track record in the supply of lubricants to the agricultural community and offer both online and telephone facilities to obtain the optimum grade for your farm tractor. Online guidance can be obtained here: https://www.exol-lubricants.com/oil-check/
As a guide, we would reccomed the following:
For tractors built during 1970's = Optifarm Master 15W-30
For tractors built during 1980 – 2000 = Optifarm Ultra 10W-30
For tractors built after year 2000:
John Deere = Optifarm UTTO
New Holland = Optifarm UTTO
Massey Fergusson = Optifarm Ultra SS 10W-40
Kubota = Optifarm UTTO / Optifarm LV UTTO
Claas = Optifarm LV UTTO
Fendt = Optima Ultra SS 10W-40
Case IH = Optifarm UTTO
McCormick = Optifarm UTTO
NB…This listing is given for guidance only. For advice on specific models go to https://www.exol-lubricants.com/oil-check/
Exol Lubricants supplies many millions of litres into the agricultural sector across the globe with countless hours of performance in varying climates and operating conditions. We are supremely confident in our products ability to withstand even the harshest environments with smooth acceleration and frictional response in both clutch packs and wet braking systems. Exol Lubricants continues to be at the cutting edge of lubrication technology through innovation and technology.