Exol makes packaging upgrades
Exol Lubricants is enhancing its customer service experience following substantial upgrades to its packaging.
From March 2013, you will see the following changes to Exol's packaging:
All products (listed below) will be supplied in our new silver Exol barrels
All Exol product description labels on 20L, 25L, 60L, 205L and IBCs will be upgraded to one single label, meaning an end to over printed labels
Exol products supplied in new Oxford blue and Exol Silver barrels will be labeled on the top and side and feature product descriptions and bar codes, in order to help with identification.
In addition to packaging upgrades, we are making numerous changes throughout 2013, all of which are designed to support your business more effectively and efficiently than ever before. Details of further improvements will be released shortly.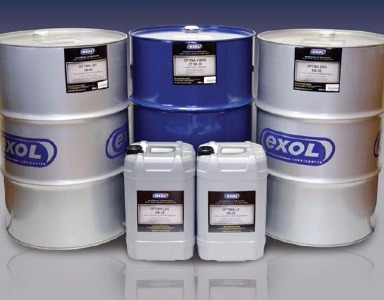 | | |
| --- | --- |
| M373 OPTIMA LSV 5W-30 LOW SAPS SYNTHETIC | M377 OPTIMA LSM 5W-30 LOW SAPS SYNTHETIC |
| M380 OPTIMA VIMAX LL 5W-30 SYNTHETIC | M403 TAURUS EURO 5 10W-40 LOW SAPS SYNTHETIC |
| M396 OPTIMA VIMAX FD 5W-30 SYNTHETIC | M404 OPTIMA LS 5W-30 LOW SAPS SYNTHETIC |
| M397 OPTIMA LSP 5W-30 LOW SAPS SYNTHETIC | M412 OPTIMA LSX 5W-40 LOW SAPS SYNTHETIC |
| M414 OPTIMA LSR 5W-30 LOW SAPS SYNTHETIC | M409 OPTIMA LSG 5W-30 LOW SAPS SYNTHETIC |
| M429 OPTIMA VIMAX ECO 5W-20 SYNTHETIC | M421 OPTIMA LSH 0W-30 LOW SAPS SYNTHETIC |
| M400 OPTIMA VIMAX SZT 5W-30 SYNTHETIC | M413 OPTIMA LSZ 5W-30 LOW SAPS SYNTHETIC |
| M344 OPTIMA VIMAX 0W-30 SYNTHETIC | M408 TAURUS SHPD E9 15W-40 |
| G019 SYNGEAR SS 75W-90 | G057 ATHENA SYNGEAR 75W-90 |
| A023 SYNTHETIC AUTOTRANS | G135 SYNGEAR SW 150 |
| G050 SYNGEAR SW 220 | G067 SYNGEAR SW 320 |
| G048 SYNGEAR SW 460 | A036 AUTOTRANS MVA |
| M393 TAURUS EXTREME M15W-40 | M401 TAURUS EXTREME M3 10W-40 |
| M385 TAURUS RESILIENT 10W-40 | M398 TAURUS VALIANT 10W-40 |
| M387 TAURUS ROBUST 15W-40 | M406 TAURUS LA 10W-40 |
| G123 ATHENA SUPER SYNGEAR 75W-90 | G130 ATHENA SUPER SYNGEAR 75W-140 |
| G124 ATHENA SUPER M 80W-90 | G131 ATHENA SUPER M 80W-140 |
| G128 ATHENA SUPER M 85W-140 | A020 AUTOTRANS DEXRON III |
| M375 EXCELMOTIVE ZF 20W-40 | EXCELFLUID RANGE |