Exol rallies round Pride of Birmingham young fundraiser of the year, Henry Carpenter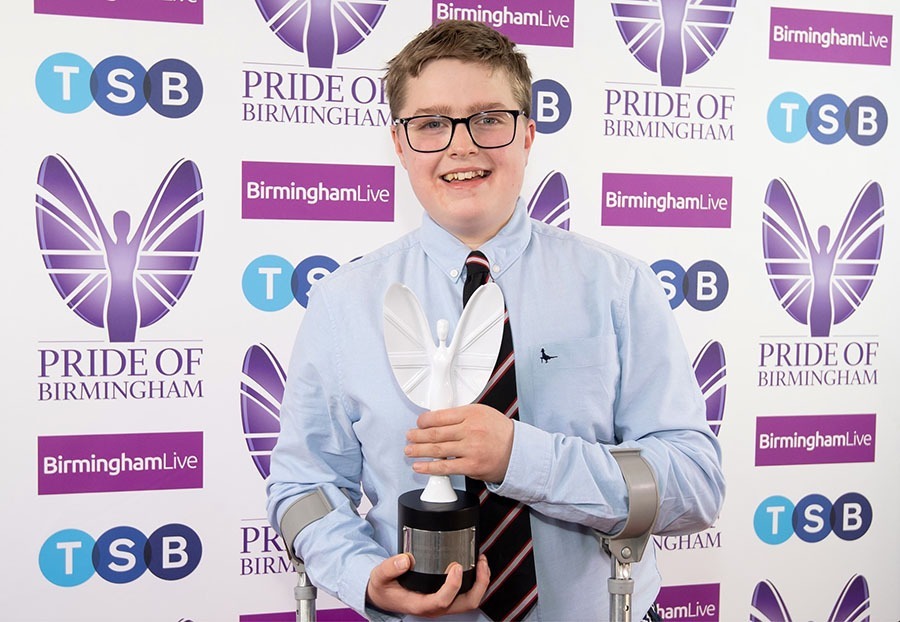 Exol Lubricants has championed the efforts of Carpenter Goodwin's Henry Carpenter, who has been crowned Pride of Birmingham's Young fundraiser of the Year.
Henry had a major accident while working on his farm in Worcestershire in April 2020. The accident left him with a crushed pelvis and dislocated hip. In a race against time, and with Henry bleeding heavily, he remained calm while paramedics rushed to his aid.
First responder, Malcolm Russell, identified the life-threatening injuries but also Henry's incredibly high spirits, which made injury assessment easier and allowed for the quick arrival of the Midlands Air Ambulance, which helicoptered him to Birmingham Children's Hospital.
Following successful treatment at hospital and rehabilitation at home, Henry, unbeknown to his parents, began raising money for Midlands Air Ambulance in support of the people that saved his life.
While in excruciating pain, unable to sleep, on crutches, and awaiting hip surgery, Henry committed to walking 54 miles for Midlands Air Ambulance. He completed the remarkable achievement in 34 days, walking six miles on the last day of the challenge.
Henry has now raised more than £10,000 for the charity, enough to fund more than 20 critical care missions.
Henry picked up the award from TV personality Kym Marsh at the Pride of Birmingham awards at the Belfry in May. He also received a congratulations message from Doctor Who star Jodie Whitaker, one of the teenager's favourite programmes.
Steve Dunn, Exol sales and marketing director, said: "Henry truly deserves this award – his fundraising efforts have been remarkable. What stands out though is his incredible character and calmness during and after the accident, which has enabled emergency services and NHS providers to successfully help with treatment."
To make a donation towards Henry's fundraising efforts please click here: https://www.justgiving.com/fundraising/henry-carpenter2
To view the presentation of the Pride of Birmingham Young Fundraiser of the Year award, please click here: https://www.youtube.com/watch?v=EHDWSGsKfs8