Exol Taurus Euro FE Plus 5W-30 meets new Scania lubricant spec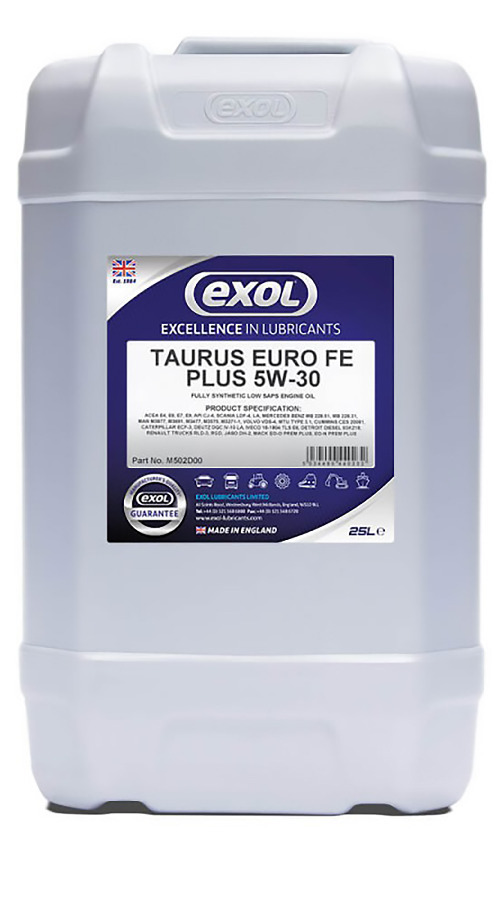 Exol has announced the introduction of an advanced lubricant designed to cover the latest Scania engines.
Exol Taurus Euro FE Plus 5W-30 complies with the latest Scania specification LDF-4, covering heavy duty vehicle applications.
This state of the art, low SAPS, fully synthetic engine oil is designed to offer the user exceptional fuel saving benefits without compromising on drain intervals or component protection. It achieves this by using a synergistic combination of premium synthetic base stocks, specialised polymers and performance additives blended to an optimised SAE 5W-30 viscosity grade.
Taurus Euro FE Plus 5W-30 meets a very wide range of industry and OEM specifications and allows extended oil drain intervals to be achieved. In addition, Taurus Euro FE Plus 5W-30 is compatible with after-treatment devices fitted in modern heavy-duty diesel engines such as diesel particulate filters and selective catalytic reduction units.
The lubricant is ideally suited for use in the very latest Euro V & VI emission engines and is backwards compatible to older models, making it the ideal choice for a typical heavy-duty fleet operator running a range of vehicle types and ages and who wishes to reduce fuel costs. Taurus Euro FE Plus 5W-30 is not only well suited for use in trucks and buses but also in off-highway equipment such as large earth movers.
As one of the leading lubricant suppliers in the UK, Exol is committed to bringing fuel-saving solutions to the independent aftermarket. Taurus Euro FE Plus 5W-30 covers a wide range of Scania commercial fleet requirements while demonstrating real-world fuel economy benefits, ensuring customers can benefit from significant fuel savings as well as optimum engine performance.
The oil is available now in a wide selection of quantities, with technical data and health and safety sheets provided on request.