Fluid Issue 9 is out now!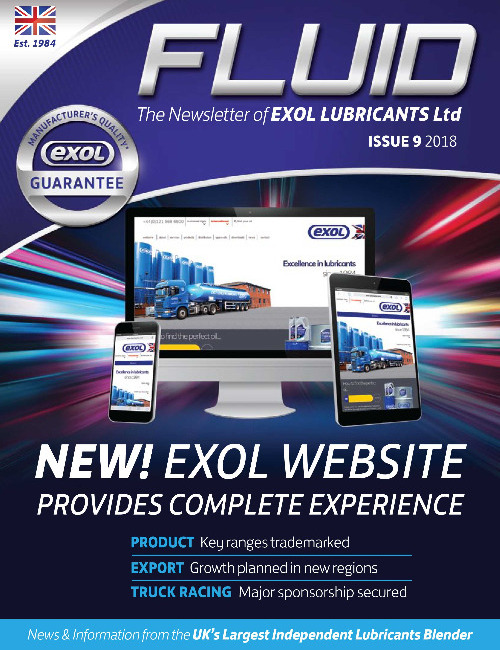 Issue 9 of Fluid, The Newsletter brought to you by Exol Lubricants is out now and here's what you can expect to see inside.
Stop press! New Exol grades launched
Exol announces that three new grades are now available, further boosting its lubricants offering
Exol's award winning ways
Exol has won the award for 'CV Supplier of Excellence' at the prestigious IAAF Annual Award Ceremony 2018, underlining its position as a leading industry supplier
Onsite defibs installed
Exol has installed a de?brillator across each of its production sites, after becoming certi?ed to connect up the life-saving devices.
One in a million multi-specialist Chemodex
Customer Chemodex achieves one million litres of Exol product, highlighting almost a 50 year partnership with Exol.
Hampshire Oil heralds partnership
Exol announces that fifth generation Hampshire Oil & Grease has become an Authorised Distributor of Exol lubricants & greases
Lift off! New website launched
Exol has announced the launch of its new fully optimised and mobile responsive website www.exol-lubricants.com, featuring a new product search tool
Export expansion
Exol is looking for new distributors in specific countries having grown its export business throughout Africa, Asia, Europe and the Middle East, appointing strategic global partners
Exol powers BTRC talent
Exol has signed a new sponsorship deal with Newell & Wright Transport in this season's British Truck Racing Championship (BTRC).
New catalogues . . . Coming soon!
Exol's new product catalogues will be launching soon, covering its five key sectors including Automotive and Commercial
Students see Exol's slick offering
Exol has opened its doors to commercial vehicle apprentices as part of a training initiative, who got the opportunity to glean insight into all aspects of Exol's smooth operation
Exol soaks up engine oil spec changes
Changes have arrived for some key engine oil speci?cations, but don't panic, Exol already have everything covered.
Cutting fluids: the lowdown
Exol gives an introduction to cutting fluids, explaining the types of available, their function and characteristics.
Exol backs jet ski hopeful
Exol is delighted to be sponsoring professional jet skier Darren Leeper once again for the 2019 season, with a busy year of competing on the cards
Inside Exol
Some of Exol's team members have recently been involved in charity fundraising through impressive feats of achievement, including running the London Marathon 2019 and a team weigh-in. Plus, some new faces add to Exol's growing talent pool.
Download your copy of Fluid HERE