New product! One shot – Optima Super Two Stroke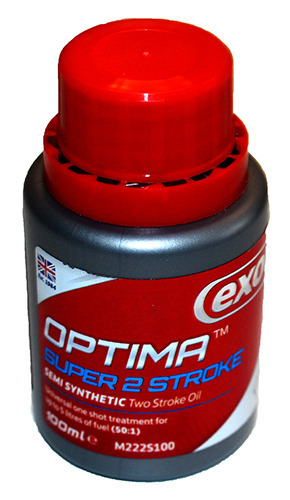 Optima Super Two Stroke is a specially formulated, high performance semi-synthetic two-stroke oil.
Optima Super Two Stroke utilises the latest additive technology along with a balanced combination of clean burn synthetic and highly refined mineral base oil in order to meet the complex and severe demands laid down by JASO.
Offering an ultra-low smoke formulation and protection against piston and cylinder scuffing, the new oil prevents pre-ignition and power loss by reducing unwanted combustion chamber deposits.
It also offers high film strength for ultimate engine protection.
Optima Super Two Stroke is suitable in two stroke motorcycles of medium to high output but can also be used in other two stroke applications such as mopeds, motor scooters and chainsaws. It is suitable for pre-mix and oil injection systems. Always refer to the manufacturer's handbook for mixing ratios.
Due to popular demand, the product is available in 100ml bottles and are sold in packs of 24.