What are Oils and Lubricants Used for in Construction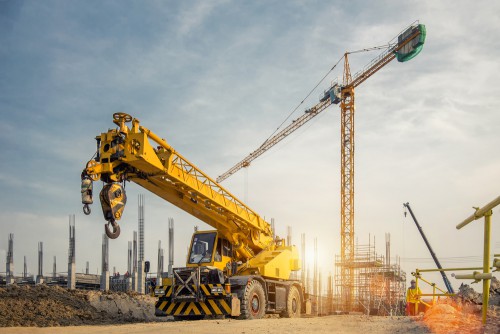 Construction like many sectors uses a plethora of lubricants most of which are sector specific to ensure a constant delivery of performance and reliability
Hydraulic Oils
All construction work relies on the use of hydraulics. Excavators, dumpers, cranes, crushers all of which need quality hydraulic oils fit for purpose. Whilst simple HLP hydraulic oils can be used, constant use operating across wide ambient temperature ranges means better performance is given by HVLP or HVLP-D hydraulic oils.
*Hydraulic terms can be explained by reference to ISO 6473-4
Engine Oils
All construction traffic relies on some kind of motive power derived from engine oils. Onsite power will be supplied by generators with mobile construction traffic operating over a variety of terrains dependant on its own engine power.
Heavy duty engine oils are a must to ensure reliable and sustained drain times are achieved. Most construction traffic will have its OEM (Original Equipment Manufacturer) approvals such as Caterpillar and Volvo whilst others rely on international standards such as API and JASO. For most modern construction traffic; an API CJ-4 or JASO DH-2 for after treatment device compatibility will be required with varying viscosities from 15W-40 to 10W-30.
Transmission Oils
All construction transmission oils must be heavy duty as this is the primary fluid converting engine power into motive power; hence, the lubricant of choice should always be heavy duty. Construction equipment has many OEM references from Caterpillar, Volvo to Allison which should be the go-to lubricant choice for that equipment where listed.
Axles, gearboxes and reduction gears
Construction traffic will be operating on gradients carrying heavy loads putting and lubricant under high levels of stress. Simple automotive gear oils would not be adequate in these applications over prolonged periods and in many cases, damage could arise from their usage.
As previously mentioned, many OEM specifications are in place for these applications with varying viscosities for changes in ambient temperatures.
Oil Immersed – 'Wet Braking' systems
Construction traffic operates in wet, dusty, and adverse conditions making typical outboard braking systems unreliable. In-board braking systems are more protected from the elements and hence are the obvious choice for construction and off highway vehicles.
High loadings and gradients again rely on heavy duty products for maximised performance, friction media life. Many OEM's have their own specifications for these applications all of which will again be heavy duty
Greases
Construction traffic will be operating in less than ideal conditions, often in the wet and in some cases submerged in water. Greases based upon Calcium Sulphonates have high load capabilities and water tolerance together with excellent corrosion resistance.Whilst not a panacea and in many cases other types of greases such as Lithium complex maybe suitable, the OEM requirements should always be consulted.
Slew rings and open gears require a different type of lubricating grease with adhesion being foremost. Products based upon high viscosity base oils with additional polymeric compounds will ensure the grease remains in place regardless of atmospheric conditions.
Support and advice
Exol Lubricants has a wealth of lubricant knowledge available through our friendly staff who can be_x000D_
contacted directly or email backed up by our online lubricants database available at https://www.exol-lubricants.com/oil-check/ Regardless your business, we are always happy to help with all your lubrication needs.